The bean's the thing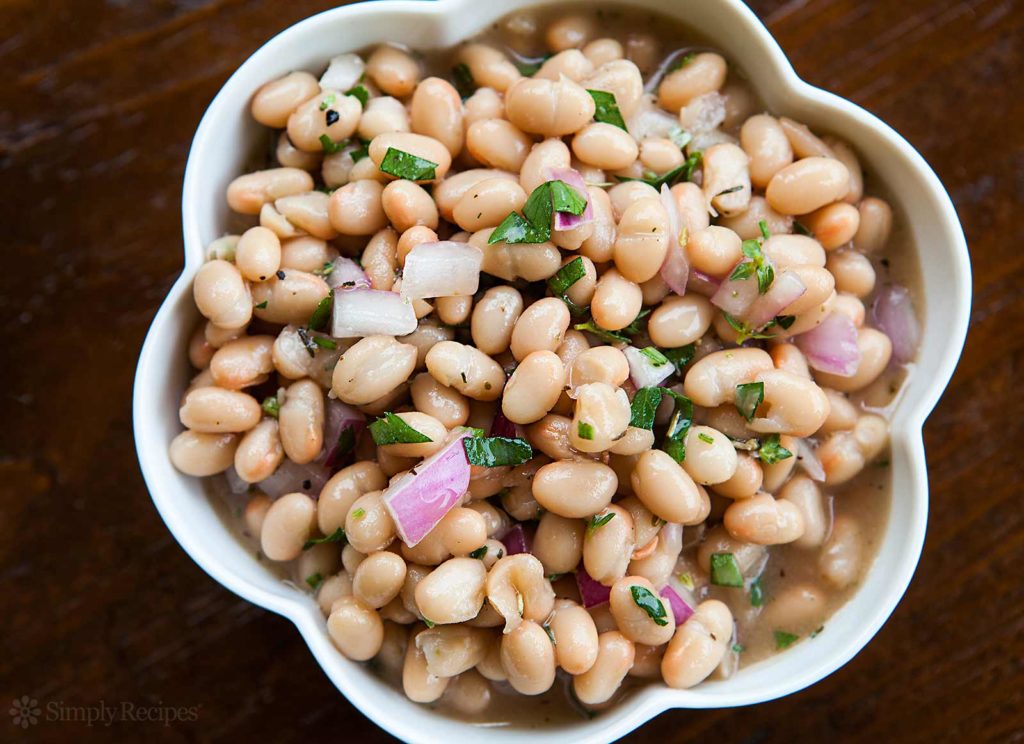 If you follow food trends, you will notice the proliferation of recipes featuring canned beans for quick and versatile meals, especially at this time of year. While you can always start with dry beans that you cook, use and store in the freezer for inclusion in recipes, it is easy to stock your pantry with a variety of canned beans for quick meal preps.
Our focus this month is on white beans, which pair well with all things Italian—garlic, Italian herbs, sausage, even pasta. They also can be used as the classic bean for Boston Baked Beans. The three most common varieties are Great Northern, White Navy and Cannellini. While each has its own particular use, they can be interchangeable for most things.
Try some of these easy recipes and then start experimenting.
Tuna, Marinated Artichoke and White Bean Salad
Ingredients
• 1 can good quality tuna
• 1 small jar marinated artichokes—keep the marinade
• 1 can white beans
• 1 bunch green onions
Optional
• Sundried tomatoes (TJ's without oil)
• Chopped green olives or pitted Kalamata
• Chopped canned pimentos or other marinated red pepper
Vinaigrette of your choice
I would use a mixture of balsamic and lemon juice, some herbs and oil. Fresh basil or dill would be good.
Directions
•  Drain tuna and beans. Chop onions and olives.
•  Mix all ingredients and let chill. 
•  Taste for balanced flavors.
•  Serves 4 as a side salad.
Cheesy White Bean Tomato Bake
This recipe from The New York Times is a great template for adding your own preferences. Italian herbs, mixed cheeses, olives, red peppers—even sauteed sausage could work with this basic approach.
Ingredients
•  ¼ cup extra-virgin olive oil
•  3 fat garlic cloves, thinly sliced
•  3 tablespoons tomato paste
•  2 (15-ounce) cans white beans (such as cannellini or Great Northern) or chickpeas, drained and rinsed
•  ½ cup boiling water
•   Kosher salt and black pepper
•  ⅓ pound mozzarella, coarsely grated (about 1 1/3 cups)
Directions
Heat the oven to 475 degrees. In a 10-inch ovenproof skillet, heat the olive oil over medium-high heat. Fry the garlic until it's lightly golden, about 1 minute. Stir in the tomato paste (be careful of splattering) and fry for 30 seconds, reducing the heat as needed to prevent the garlic from burning.
Add the beans, water and generous pinches of salt and pepper and stir to combine. Sprinkle the cheese evenly over the top, then bake until the cheese has melted and browned in spots, 5 to 10 minutes. If the top is not as toasted as you'd like, run the skillet under the broiler for a minute or 2. Serve at once. Yield: 4 servings.
Sausage, White Bean, and Kale Soup
A classic soup that also invites additions and modifications.
Ingredients
•  1 1/2 tablespoons extra-virgin olive oil
•  1 medium leek or yellow onion, finely chopped
•  2 medium carrots, peeled and finely chopped
•  2 medium celery stalks, finely chopped
•  Kosher salt
•  1 tablespoon minced fresh rosemary
•  2 tablespoons tomato paste
•  2 large cloves garlic, minced (about 1 tablespoon)
•  5 cups chicken broth
•  Two 15-ounce cans cannellini beans, rinsed and drained
•  6 ounces (about 1 bunch) Lacinato kale, center ribs removed, leaves chopped
•  3/4 pound hot or sweet bulk Italian sausage, rolled into bite-size meatballs
•  2-3 tablespoons cider vinegar, to taste
•  Freshly ground black pepper
•  grated Parmesan for garnish
Directions
Heat 1 tablespoon of the oil in a 4- to 5-quart pot over medium heat. Add the leek or onion, carrot, celery, rosemary, and a generous couple pinches of salt and cook, stirring occasionally, until the vegetables begin to soften, about 6 minutes. Add the tomato paste and garlic and cook until fragrant, 45 seconds. Add the broth, and Parmesan rind (if using). Bring to a boil, reduce the heat to medium low, and simmer gently until the vegetables are tender, about 15 minutes.
Meanwhile, heat the remaining 1/2 tablespoon oil in a 10-inch nonstick skillet over medium-low heat. Add the sausage meatballs, and cook, flipping about halfway through, until browned and cooked through, about 10 minutes.
Add the kale to the soup; cook 1 minute, then add the meatballs (discarding any of the rendered fat and oil) and the beans; cook for 4 more minutes to meld the flavors. Stir the cider vinegar into the soup and season to taste with salt and pepper.
Ladle into bowls and garnish with grated Parmesan.